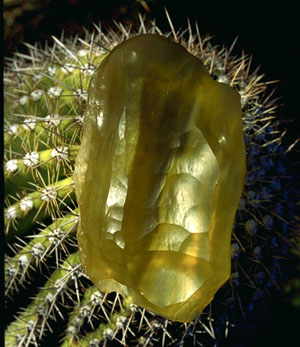 LIBYAN DESERT GLASS, Egypt
(Tektite)
Libyan desert glass is believed to have been formed by an impact in the vast sands of the Libyan Desert some 28 million years ago. Over 98% silicon dioxide, it contains the purest silica of all known tektites. Libyan Desert glass ranges in color from milky yellow to translucent, pale green, and can be faceted into brilliant cut stones. These pieces were personally collected by Robert Haag in December, 1996.
Sizes range from small fragments to large fist-sized specimens. $3/gm
---
TEE SHIRTS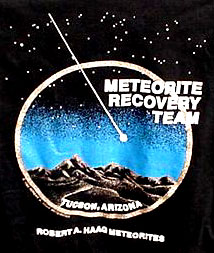 Front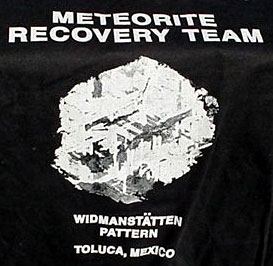 Back
Meteorite Recovery Team T-shirts in black only. Shooting star glows in the dark!! Available in S-M-L-XL. $24 each
---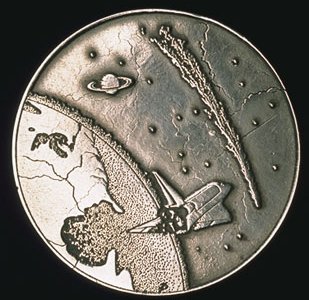 METEORITE MEDALLIONS
Cast from genuine Arizona Meteor Crater (Canyon Diablo) iron meteorites. Very limited mintage.Comes with signed certificate of authenticity. Great collector's item! $250 each.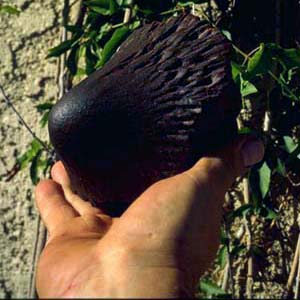 Casting of the 'Venus Stone'
A textbook example of an oriented meteorite. It clearly shows the direction of flight as the stone passed through the atmosphere.
Original meteorite in the Robert Haag collection.
Castings are available for $100.
---
It's Here! The 2003 Edition
Robert A. Haag's COLLECTION
OF
METEORITES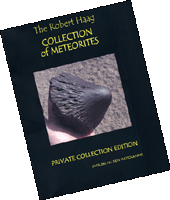 ---
ROCKS FROM SPACE
By O. Richard Morton. A complete, up to the minute reference. 450 pages, hundreds of photos and illustrations in color and black and white. Easy reading, informative, in-depth. Highly recommended. Soft cover. Revised Edition, $30 plus $5 shipping ($10 International)
---
GIBEON METEORITE RINGS - $100
---
NEW MICROSCOPE THIN SECTIONS
Allende (CV III) $50

GAO (HS) $40

Millbillillie (eucrite) $50

Sahara 97159 (EH3) $100

Murchison (CM2) $100
---
Meteorite Jewelry
Assorted gold and pallasite jewelry for the perfect out of this world unique gift.