---
No Photo Available Yet
EL HAMANI
(H-5 Chondrite)
This large fireball was witnessed in 1994, but the actual meteorite wasn't recovered until late 1996. Fragments show highly visible metal grains.
Polished slices AT $1/gram from 50 grams and up.
---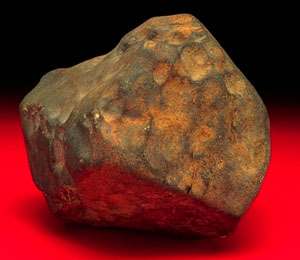 GAO, Burkina Faso, West Africa
(H-5 Chondrite)
This stone meteorite was seen to fall on March 5, 1960. Many of the pieces originally recovered crashed through the roofs of native huts. Initially, 16 pieces were found. Lately, enterprising locals have taken to searching the fields during the winter months when grasses are low, and several hundred more stones have been recovered. Total recovered weight amounts to over 500 kilos.
Complete stones 200-500 grams. Also polished slices and end-pieces. All at $2/gram. Smaller complete stones 20, 21, 24, 25 grams at $4/gram.
---
Gold Basin, Arizona (L4) A recent discovery in the Arizona desert. Polished end-pieces of this chondrite from 50-150 grams at $1/gram.
Forrest B, Australia (L6) Smaller polished fragments of this weathered find show metal grains. From $10-20 each.
ETTER
(Bronzite Chondrite)
One large complete slice, polished to show nice metal grains.
3700+ grams at $1/gram.
---
No Photo Available Yet
JUANGCHENG
(H-5 Chondrite)
The newest recovered stone meteorite, a witnessed fall on Feb. 15, 1997 (formerly known as Heze). We have an assortment of complete stones and end-pieces from 20-80 grams at $5/gram.
---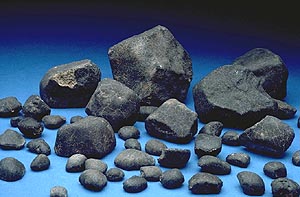 NUEVO MERCURIO
(H-5 Chondrite)
Assorted complete stones & polished end-pieces from 10-47 grams available at $6/gram.