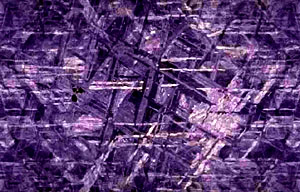 GIBEON, Namibia
(Fine octahedrite [IVA])
This fine octahedrite displays the classis Widmanstatten pattern typical of iron meteorites. The high nickel content results in the fine crystalline pattern and makes this meteorite highly maleable making it very suitable for knives, jewelry and other applications.
Specimens $100 per pound. 50 pound, 200 pound and 1250 pound specimens.
Cut edge slices $1/gm. Up to largest 8 kilos.
---
SIKHOTE-ALIN
(Coarsest Octahedrite)
A nice assortment of hand selected pieces, each with excellent thumbpriting and surface features. Photo above: I've seen thousands of Sikhote-Alin meteorites, but never one this perfect with a hole! Sold, but beautiful.